Email security for business is vital in today's environment to guard against phishing.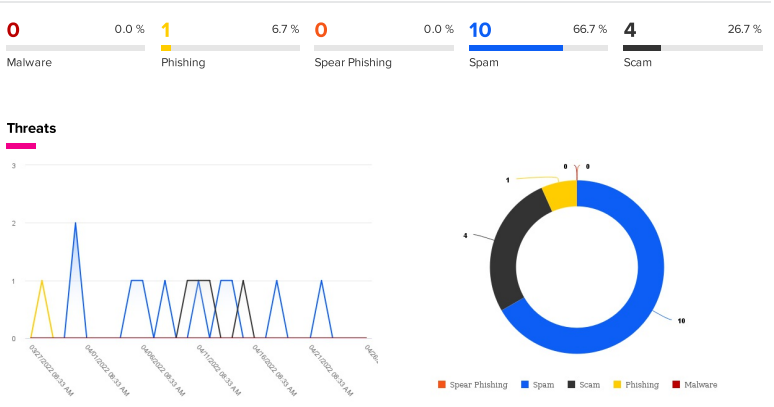 Phishing emails are the primary cause of most data breaches. Almost all email providers include some form of email security. However, these only prevent 30% of the most common scam and phishing emails. Ultimately, this can leave your business open to infiltration.
Our partnership with Vade Email Security means we can offer an industry-best product. Many of the biggest companies in the world trust Vade Email Security to protect their systems. This is because Vade can catch up to 90% of all phishing and scam emails that slip past the standard in-built security.
Vade Email Security for business runs alongside Office365. As such, it seamlessly filters and protects before the emails hit your inbox. In doing so, there is no effect on your existing email rules or settings. Our customers utilising Vade benefit from real-time reports showing the protection it affords.
Would you like to experience the superior security protection that Vade provides? MFTS offers a trial whereby we will monitor scam and phishing emails that you receive without removing them. In doing so, you will be able to see, transparently, what you need to protect your system from.
In today's business environment, and particularly in the current climate, installing security on all your devices is paramount.
Beware of increased threats following the West's imposed sanctions on Russia.
According to the National Cyber Security Centre (NCSC), all companies should make sure their organisations are protected against any potential threats.
If you have any concerns or are unsure of the type of security you need, we are here to advise. We are one of the top cyber-security providers in Kent with the experience and know-how to help you.
Through our research and training we have produced various free guides and a video explanation here: email security for business, please visit the link to view.
If you would like to arrange a free email security trial for your business, please contact us today. Alternatively call us on 01892 577 577 or send us an email.