Customers expect 24/7 service and superfast 4G internet coverage, therefore when a telecom service goes down, it's at the expense of the provider's reputation, no matter the reason.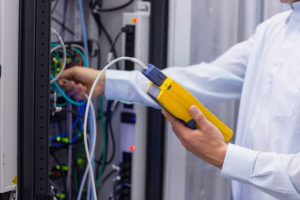 A recent survey by OneServe questioned 500 telecoms executives about their experience of reputation and customer loyalty due to telephone service downtime. Three in four of those questioned said they were concerned at the damage done to their reputations during these times.
Mobile network services fail due to technical faults, use of out-dated or old systems and because of external damage. With customer expectations so high, it's how telecoms operators respond to downtime that is important for ensuring reputational damage is kept to a minimum.
There's no excuse for poor maintenance of a telephone system causing any telephone service downtime.
Businesses spend, on average, more than 19 hours a year, on trying to solve service downtime issues at a cost of over £200,000.
The majority of those interviewed (82%) agreed on the importance of making provision within their business for flagging up potential faults. Spotting and dealing with faults either before, or as soon as they arrive is crucial to not only prevent downtime, but to protect the company's reputation.
"It's clear that too many companies aren't doing enough to protect their reputation or keep their customers loyal," the CEO of OneServe commented.
The importance of having a maintenance contract to protect against service downtime cannot be underestimated.
MF Telecom Services helps businesses with telephone system support through an in-house team of fully qualified telephone engineers and an experienced, dedicated team of telecoms experts.
With more than 17 years of telecoms industry experience, MF Telecom Services can help keep your business operational, avoiding unnecessary downtime.
Choose from various levels of care, with Nationwide coverage and support from a dedicated account manager.
MF Telecom Services is an NEC and Siemens/Unify accredited partner, qualified to perform system installations, as well as software updates and programming.
One-off call outs
Emergency faults: If you have a fault on your business telephone system and you don't have a maintenance package, call us on 01892 577 577. MF Telecom Services offer technical support and emergency fault fixing and diagnosis.
Moving offices
If you are moving offices and want to take your old telephone system with you, we can help. Our qualified engineers will come to your office, remove your current system; and within a certain geographical range, re-install the system at your new premises.
Bespoke business telephone system maintenance and service contracts
MF Telecom Services offer UK business cost-effective telephone system maintenance packages that will enable you to get your critical telecommunications system up and running if something goes wrong.
We can support many legacy, or manufacturer discontinued models, avoiding the need to replace a whole telephone system before you need to; and our annual PBX or VoIP system health check with help to keep your telecommunication solution in optimal condition.
Telephone system maintenance support is available for manufacturers such as NEC, Siemens, Unify, Mitel, Avaya, Nortel, Polycom, Meridian, Aastra, Alcatel/Lucent, and Ericsson.
To discuss your telephone system maintenance and support options or request a quote, please send an email or call 01892 577 577.