Whatever the size of your business, customers need to be able to get in touch with you.  So how do you choose from the various small business telephone systems that are available?
As convenient as email and messaging may be, there is nothing like being able to talk to someone – in real-time. That's why you should not underestimate the importance of a telephone system. We've all been there, going round and round in a loop on automated chat, getting nowhere with help centre articles, when all you really want is to be able to speak to someone. Customers value this. And if you provide this for them, they will value you.
You might already have a telephone system. If you do, it could be that you are going to have to change it soon. Have you heard of the big ISDN switch-off happening in 2025? It's not as far away as you might think.  Here is your free video guide here: Switch Off 2025 – a quick guide.
If you do need to change your business telephone system, are you confused about what's on offer? If so, we hope this handy guide might help. Whether you want an on-site system of the more traditional kind, a cloud system using VoIP or somewhere in between with SIP, we've got you covered.
We hope this guide will help you choose the small business telephone system that is right for you. And don't worry, if you're still not sure, you can call us. One of our experienced telecoms experts will be able to talk things through with you to help you make that all-important decision.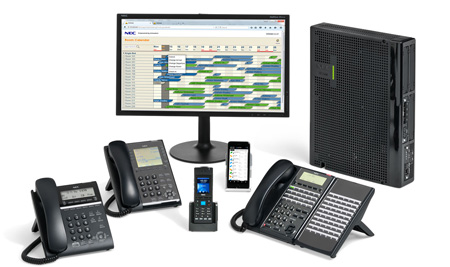 Contact us about Small Business Telephone Systems today!
What types of small business phone system options are on offer?
1. Traditional small business telephone systems - On Premise
With traditional telephone systems, we're talking hardware, a physical phone system installed on site. Incoming telephone lines go to this hardware which then routes calls to each of the phones connected to the system.
Though most businesses now opt for a cloud-based system, traditional ones are very much still in use and are a viable option for some businesses.
2. VoIP telephone systems hosted in the cloud
Cloud-based systems or VoIP solutions do not require hardware. They are software based and as such, are fully hosted in the cloud. This means instead of traditional telephone lines, calls are routed via the internet to the telephones that are connected to the system.
VoIP solutions can be cheaper as there's no hardware to install. Maintenance costs are low and they are fully scalable, therefore can be easily adapted to grow with your business. They are an ideal solution for small businesses that also operate remote-working or a flexible hybrid approach.
3. SIP or Hybrid Phone Systems
When you have existing ISDN and analogue phone lines, a SIP system can be an economically viable alternative to fully switching to the cloud.  SIP (Session Initiation Protocol) deploys SIP trunks – a link between your phone system and the public telephone network system. This way, calls are routed through the internet rather than over traditional telephone lines.
This is what makes SIP a hybrid solution as it provides something that is in between a traditional system and that of a hosted one.
Questions to ask when choosing a small business telephone system
What features do we value from our existing business phone system that we need to keep?
This list can include the features you use most often and the ones you don't think you could manage without. It is worth asking your employees to contribute to this list so that it fully includes everybody's needs.
What features do we not currently have but wish we did?
Are there features missing from your current system? With more people working remotely, it could be that you struggle to keep track of everyone and wish you had a system that could incorporate the different ways of working that we now employ. There may be features that you now need that you didn't when you first had your current system installed.
How many users do we need and what type?
The numbers and the needs of your employees is an important factor when choosing your system. Think about what each of your users will need to use the system for. This could incorporate where they work and how.  For example staff that are often out of the office meeting clients may need mobile apps on their smart phone.
Who are the potential suppliers?
A good provider should have a proven track record and excellent customer service. The size of the company is irrelevant.  Find out about the company, research them, look for reviews on Google or Trust Pilot, testimonials etc. You could even speak to existing clients to ask for their opinion.
WARNING: Unfortunately, there are a lot of business phone system suppliers out there that like to sign you into a 5 year or even a 7 year lease agreement.  Which means once you have signed the order forms and the supplier has deployed the system, they get paid up front from a leasing company for the entire lease period!  This means you are locked in for a long period of time regardless of what the service is like, whilst the supplier has been paid in full.
Think before you purchase
It is important to get your telephony solution right from the beginning for it to continue to work for your business and support future expansion plans or strategy changes.
It's a big commitment, and one you're not likely to do for a very long time once it's done – if you do it right, that is. If you're just not sure and need some more help or advice, we can provide an honest, no obligation review of what you're currently using. By finding out more about how you operate as a business, we can better understand how your business can benefit from a new telephone system.  Contact us today.