Microsoft Price Increase – What's happening?
In August 2021, Microsoft launched the New Commerce Experience (NCE) for their seat-based subscriptions. This extends to Microsoft 365, Dynamics 365 and Power Platform. It means there will be some price rises on their most popular products.
On the 1st of March 2022, Microsoft 365 will go up in price, on average, by around 15%, depending on the product. The changes will also include rises for key services within Microsoft 365 and Office 365.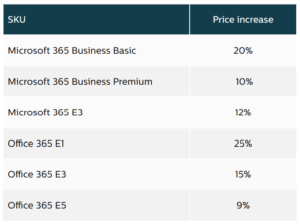 Microsoft says it has not had a price increase for the last five years. This is despite them releasing new products and experiences for their users.
Having introduced a New Commerce Experience (NCE) back in 2019, Microsoft will now extend the experience to these additional services. This is because of the increased licensing flexibility it offers customers.
New pricing terms mean that you will have up to a 20% discount on standard prices for committing to a 12-month licence term. Customers on monthly contracts will incur the full increase in pricing.
For Microsoft users, this brings greater flexibility. For example, you can mix and match annual subscriptions with additional ones purchased monthly, should you need them.
This pricing method also brings Microsoft into line with most other cloud providers. Although your current licences will continue to run as normal, you need to review what type of subscription is best for your business before March 1st 2022.
It is quite simple to avoid price increases with professional advice.
Get in touch now to discuss your Microsoft licencing and how we can leverage the new NCE for your business. You can reach us via email or by calling 01892 577 577.  If you are thinking about outsourcing your business IT, click on the link for more information about our dedicated IT support for businesses.  We also have a number of free YouTube guides such as: A simple guide explaining Microsoft 365 for business.