Recently, we completed another installation of a hosted cloud-based telephony system. The company was splitting into two separate entities. Our job involved setting users up so they could send and receive calls using the Microsoft Teams app. With the company already using Microsoft, it made sense to utilise what they already had in place. So, to take advantage of their existing Microsoft infrastructure, we installed Horizon Teams Voice to support the complex business voice requirements. Using Horizon for Microsoft Teams gives you all you need within a single application.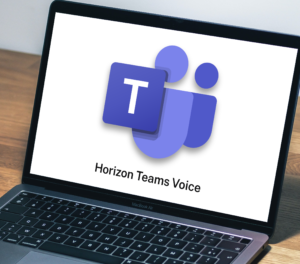 The aim was to reduce the number of programs, applications and hardware used by employees daily. In addition, it would mean having just one point of communication on each user's laptops, PCs and mobile phones.
A total of 30 people split from the original company of 200. The addition of the flexible working solution we set up for them meant that normal operations could resume with minimal disruption. Furthermore, we were also able to help users not currently using a mobile device to manage work calls using the Microsoft Teams application. This will allow them to work more efficiently from wherever they may be.
We installed the Horizon for Microsoft Teams, a business-grade cloud PBX for Microsoft users.
Here's why:
Horizon is feature-rich and user-friendly. Therefore, it is ideal for any small to medium-sized business. In particular, it is cost-effective for organisations that have remote workers and more than one site working together. The system can support hundreds of employees.
For businesses requiring flexibility, for example, if employees are regularly on the move or out of the office, Horizon is ideal. This is because the system ensures you never lose calls, as users can divert their calls to wherever they're needed. Voicemail will pick up any missed calls. In addition, you can pick up voicemail messages either from your telephone or via email.
With Horizon Hosted, upgrades are constant. This is the advantage of having a cloud-based system rather than the traditional PBX hardware. You don't need to buy new equipment to upgrade.
Another advantage of Horizon is that users can plug in their handsets, with unrestricted internet access, from wherever they are in the world. This is one of the reasons why companies that now have employees working from home and in many different locations favour Horizon. Once plugged in, the handsets work as part of the office phone system.
Having the service provided centrally negates the need for an expensive system on each site. In other words, it is ideal for multi-site locations as Horizon connects office branches. Between locations, calls are free. Additionally, everyone shares the same dial plans and directories.
With the system hosted on your behalf, there are no ongoing maintenance or running costs. You only pay for what you use on a simple per-user basis.
Horizon offers a seamless connection between mobile & laptop applications. In addition, you get integration with the main telephone system wherever there is an Internet connection (WiFi or 3/4G mobile data). This means you can take, make and transfer calls using your business phone number as though you were in the office.
When it comes to improving customer contact, Horizon enables you to put calls on hold, play marketing messages and transfer calls seamlessly between users and offices. In other words, your customers will get the best experience when calling your business.
Horizon also provides a cost-effective way to record calls that are MiFID ll compliant. At the click of a mouse, you can record calls from any location and in any direction.
Due to the online portal that Horizon offers, Horizon Teams Voice is easy to deploy, maintain and expand when needed. This online portal provides a user-friendly administrator interface that enables you to control your telephony. For instance, users can view call stats, the system directory, user lists and permissions. They can also control calls, listen to call recordings and change phone settings.
If you would like to discuss the installation of Horizon Teams Voice within your organisation, contact us, or call 01892 577 577. Also view our free video guide: What is VoIP for business?