A construction and engineering customer of ours required our advice. They weren't happy with their current IT capabilities and wanted to find out what was available in terms of an office IT upgrade.
Their IT Services manager had recently retired, so they felt now was a good time to seek help from a specialist IT services provider. This would also ensure they received managed support with one contact for all their IT comms. As we were already providing their telecoms and mobiles, it made sense for MF Comms to provide the full suite of services.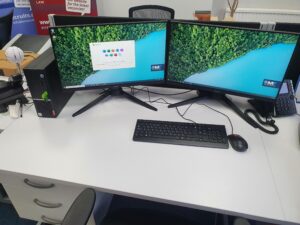 With their requirements in mind, we looked at their entire infrastructure and found that it had been an amalgamation of many different systems working together over years of integrations.
Our advice was to start from the ground up. The system was in dire need of a refresh an office IT upgrade.
We moved this customer to a cloud-based system – Office 365. In doing so, we were able to completely strip out all of their redundant systems and provide them with hassle-free office IT upgrades going forwards.
For the company, it has meant having less onsite equipment, and therefore the associated power cost savings. Additionally, it has also improved efficiency in the workplace.
With Office 365, you get an online version of the most popular Microsoft tools such as Word, PowerPoint, Excel, and OneNote. There is a wide range of features suitable for any business size. The monthly subscription means it is straightforward for companies to purchase a plan that suits their size and the number of users, thus enabling them to operate as usual without losing any downtime.
Microsoft 365 (previously known as Office 365) is a subscription-based service (billed monthly or yearly). It includes business-class email, cloud file storage, and secure communications tools. It also incorporates traditional desktop apps. The tools in Office 365, including Word, Exchange, Excel, SharePoint, Teams and more, work seamlessly together.
Updates of the desktop programs happen automatically when a new version is available. In addition, being cloud-based means Office 365 provides the full-featured experience that users can access from anywhere they are and, on any device, as long as they're online.
Efficiency is important for businesses. Being able to create, collaborate and communicate seamlessly makes for a more effective organisation. Having access to productivity tools makes it easier for people to do their jobs and from anywhere they happen to be.  Is it time for an office IT upgrade?
The key benefits of Microsoft 365 are:
Storage and security.
Store all the files in the cloud and access them from anywhere and on any device where there is an internet connection. This is invaluable for organisations where mobile or remote working is essential.
Robust security measures such as two-factor authentication ensure unauthorised people can't access your files. Threat detection and anti-malware identify and stop security threats. This is particularly important for organisations dealing with confidential data or information. With Microsoft 365 your business can operate without any security concerns.
Communication.
Skype for Business and Microsoft Teams provide improved communication. You can hold conference calls and meetings with staff and external agencies anywhere in the world. This means you can always collaborate and communicate regardless of distance or time differences. With Teams, you also get an instant messaging function to add comments and upload files simultaneously. This is useful for cross-department collaboration and when co-authoring documents. You can also 'at' people on Teams so they receive a notification of any comments aimed directly at them.
Microsoft Teams is a collaborative platform that replaces the older Skype for Business service. Teams offers unified communications, HD video conferencing, and instant messaging for Microsoft 365 subscribers. It also provides a team-and-channel-based architecture. In addition, there is a free version of Teams. This allows small businesses to use the service without paying a license fee. Usage of Microsoft Teams is often the collaborative platform of choice for businesses, increasing in popularity since the start of the Covid-19 pandemic.
Convenience.
As it's paid per user, per month, this allows you to budget your yearly IT spend. In addition, your licence fee includes upgrades, therefore you won't incur additional or unexpected costs. There are several enterprise levels to choose from, and they include different applications and products, depending on your needs.
Business continuity is one of the most important considerations for any organisation. With files stored in the cloud and regularly backed up, you can have peace of mind. Your organisation can continue to operate normally even in the case of a disaster. Furthermore, Exchange has recovery features. This means individual emails or even entire inboxes can be restored if required.
You don't need to install software with Microsoft 365. This is because it includes essential apps such as Word, Excel and Outlook, which work online. Upgrades are automatic, performed at predetermined intervals. This means you're always using the latest version and you don't have the expense of buying new software.
Centralised collaboration is easy with Microsoft 365. You can share mailboxes, calendars and contacts. You are also able to edit documents in real-time through collaborative tools. Share calendars in Exchange so that everyone can see availability, saving you time when scheduling meetings. Never miss an important email by sharing mailboxes. With SharePoint, users can access and work on saved documents, shared as a link in an email. Real-time editing is also possible with documents stored in SharePoint, which makes co-authoring easy.
Sharing and collaboration.
Exchange Online is a business-class email that gives every Microsoft 365 subscriber in your organisation a mailbox with a maximum capacity of 50 GB or 100 GB. It also gives them the ability to access email through a web browser, through the Outlook app on Windows, on a Mac or a mobile device. It also includes built-in Malware and spam filtering.
With each subscription to Microsoft 365, you get 1 TB of personal OneDrive for Business storage. In addition, every desktop and mobile platform has access to sync clients. The Files on Demand feature allows users to view and manage cloud-based storage using File Explorer. Upgrade to unlimited storage if a terabyte is not enough.
The SharePoint interface allows users to share files and sync information in File Explorer. This uses the same desktop client as in OneDrive for Business. To restrict users from sharing confidential information outside the organisation, both SharePoint and Exchange Online include administrative controls.
Want to know more about how you can utilise Microsoft 365 and get an office IT upgrade in your workplace? Contact us, or give us a call on 01892 577 577.
If you are thinking about outsourcing your business IT support, check our free video guide on the link.