You may have heard about the PSTN switch off in 2025. So, what does this mean for the future of our broadband connections?  FTTP Broadband and SOGEA are the answer.
By December 2025, we will all need to upgrade from our standard ADSL and FTTC internet connections. BT Openreach will be rolling out a new/replacement product called "SOGEA" (Single Order Generic Ethernet Access).   This uses the existing physical copper line, but with none of the calling abilities on the circuit.
These types of connections are expected to have speeds of around 40-80Mbps, which keeps in line with the kind of speeds you would expect to get from a current FTTC (Fibre to the Cabinet) connection.
Another option available to you is to upgrade to FTTP (Fibre to the Premise).  We have a free video guide here: FTTP business broadband explained
This type of connection currently offers speeds of anywhere between 50-1000Mbps, which is up to 10 times that of FTTC or SOGEA. The FTTP connection consists of a fibre cable being brought directly into the premises, mitigating the need for copper wiring – often the cause of slow speeds and consistency.
The below diagram shows the differences in ADSL, FTTC and FTTP connections.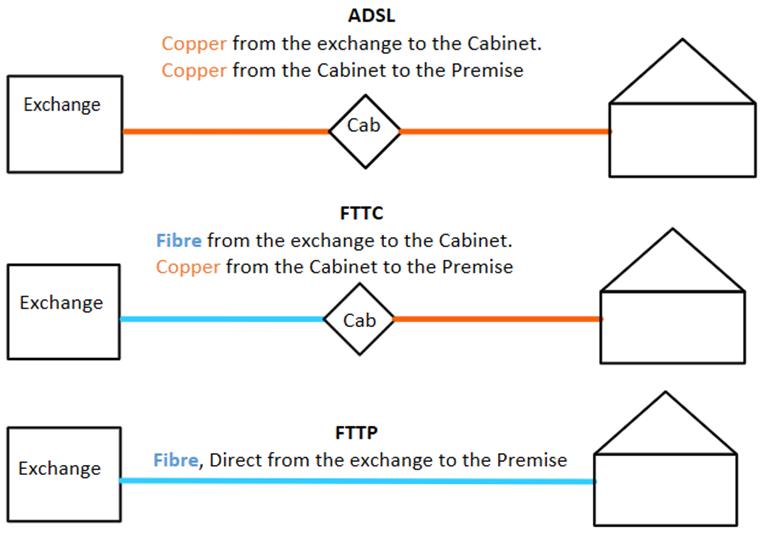 ADSL
Slower speeds due to the limitations of copper. Distance between the exchange and cab, and also between the cab and the premises, can cause massive variations in speed.
FTTC
Faster speeds are possible due to fibre connections between the exchange and the cab. The massive speed variation depends on the distance between the cab and the premises.
FTTP
Superfast speeds with a fibre connection to the premise
FTTP is already being offered to businesses and residential sites where available. We recently installed an FTTP circuit to a remote site that needed a consistent, fast and reliable broadband connection, for a new system they were installing. Their old ADSL connection was too slow, inconsistent and due to the distance from the local cabinet, was often affected by things like bad weather.
With FTTP, our client had the option to choose the speed that matched their needs and the reassurance that the fibre connection would not only be superfast but also consistent and reliable.
Other Broadband solutions are available such as Leased Lines and 4/5G mobile data, but these usually come with a costly install and ongoing costs. FTTP is the perfect in-between for SMB's who want a fast, reliable and future-proofed connection.
To find out more, please contact us and we would be happy to discuss a solution for you.