The ISDN Switch off, due by 2025, is going to cause a huge change to the UK Telecoms industry.  Led by Openreach, it means that all traditional phone lines, delivered over copper, will become redundant by this date. 
We have a free video guide here: The BT Switch Off Explained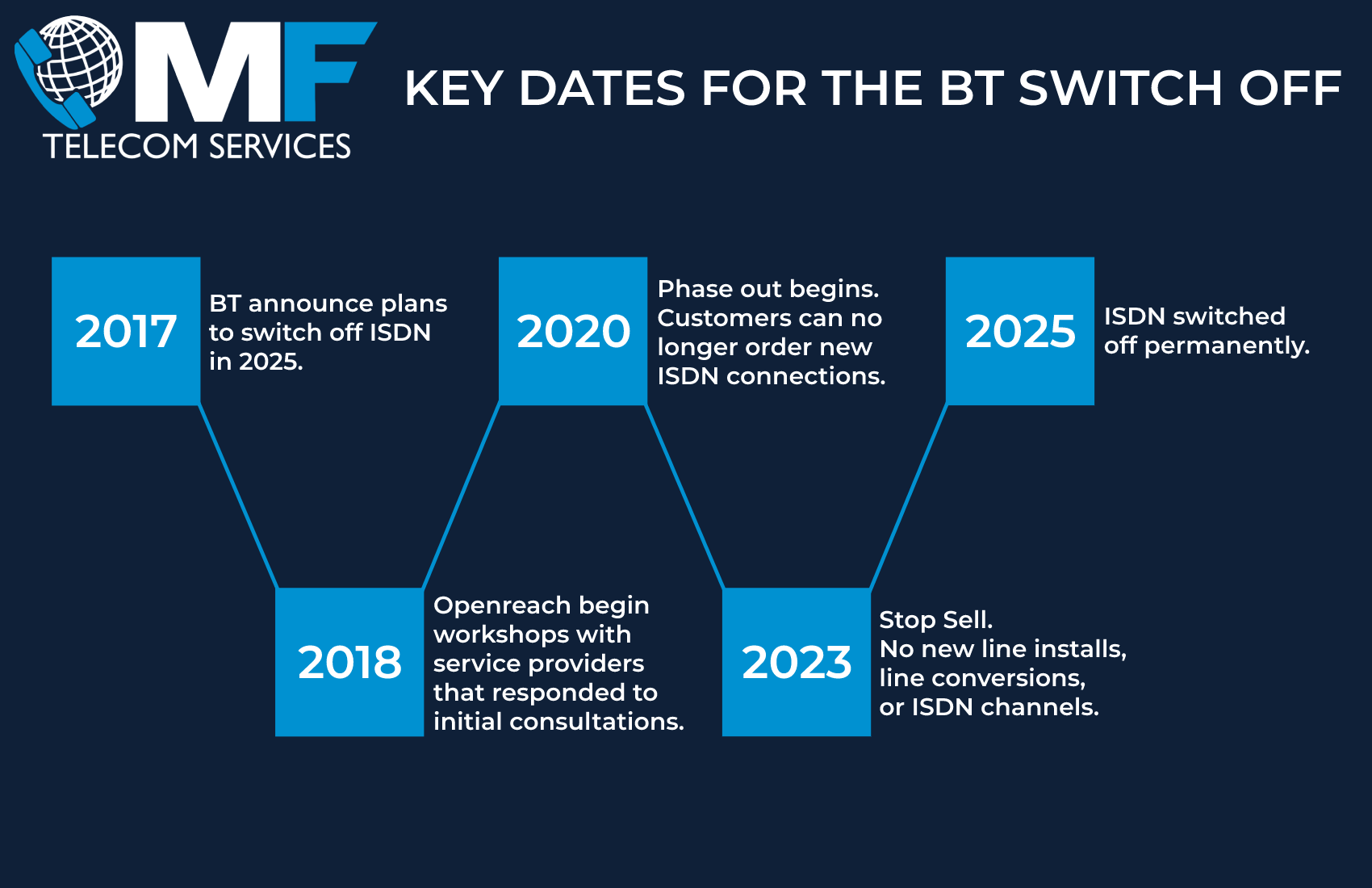 Read our free guide for businesses here.
I have a phone system on digital lines and I have broadband that runs on an analogue line, will I get cut off?
In theory, you will.
You need to have changed to IP-based phone lines by 2025 if you want to continue using your current phone system and broadband.
Contact us about your business telephone system
Do I need to act now about the ISDN Switch off?
Now is the time to start looking at what options are out there according to your budget. You will likely get calls from sales houses pushing you to do the change now. Our advice is, don't sign up for anything until you have looked at what is available and what benefits it will give your business.
If you have an old phone system that is end-of-life (no longer manufacturer-supported) then it is highly likely that you won't be able to upgrade it for it to work on an IP (internet protocol) system. In this case, you will need to upgrade to a new system at some stage.
What phone system options are there to replace what I have?
There are currently two options a A Hybrid Phone System.  vailable to you.
A Hybrid Phone System
This is a physical phone system on-site with IP channels (phone lines delivered over the internet).  This set-up is similar to a traditional phone system, but without copper wires running into the building.
A Hosted Phone System
This set-up means you will have IP Phones on site, but no physical phone system as it's all in the cloud.
You have IP phones and an internet connection to deliver the voice channels rather than traditional phone lines.
Both these options work well and so it's a case of weighing up which solution works best for your business.
Both on-premise and cloud-based systems have remote working capabilities.
What about my broadband that is on an analogue copper line?
If you're running anything on the old copper wiring, you will need to get it changed. One option is a full-fibre connection – fibre from the exchange directly into your premises. This is known as FTTP (Fibre to the Premises). A second option is SoGEA, which is a broadband connection that is not delivered over a standard analogue phone line.
All voice traffic will need to be IP-based by 2025.
There will be stop-sell orders on certain exchanges from 2021 and a full stop-sell order on Openreach exchanges from 2023, so now is a good time to do some research into what you need to do.
Don't leave it until the last minute and be pushed into a panic sale.
MFTS can give you advice and tips on what your business may need prior to the ISDN Switch off.  There is no off the shelf product and we can build a system to your requirements.