DO NOT click links on any emails if you are unsure who sent them.  Below is a brief intro to Cybersecurity and Malware threats your business now faces.
Recently, one of our customers received a dangerous scam email.The email auto-launched a piece of malware designed to steal personal information and passwords. Unfortunately, the customer mistakenly clicked on the link, and the result could have been catastrophic had it not been for the security we installed on their devices for them.
Luckily, flagging of the potential threat occurred before the webpage could even load, therefore blocking the access.
Hackers and scammers are becoming increasingly clever and sophisticated at setting up emails and messages. As a result, we have to be increasingly vigilant, although it is not always easy to spot them. Fortunately, this is where security software comes in. Hence without installing appropriate protection on your devices, your risk your details being targeted.
Below is an example of what scam emails may look like.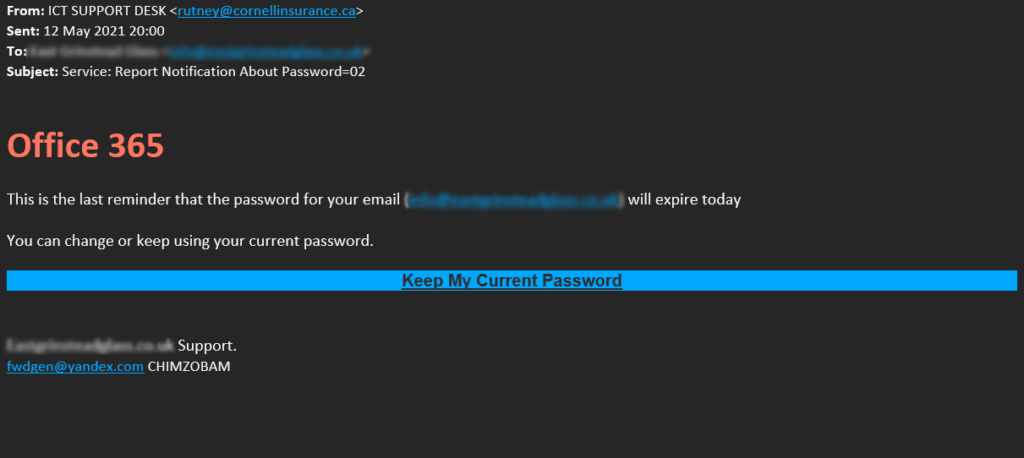 Therefore, if you have concerns about your current security software and would like to discuss options, please contact us, or call us on 01892 577 577.  Ultimately, be prepared and protect your business from Cybersecurity and Malware Threats.
What type of security do you need?
Endpoint Security – It is essential to secure end-user devices like desktops, laptops, and mobile devices. For instance, these types of devices provide access to your enterprise network. They are points of entry that malware experts can exploit. Fortunately, we monitor these, protect your network and ensure only authorised people access your services and network.

Network Security – It is a continual job to protect your network from threats. That's why at MFTS supports your network security to give you peace of mind.  

Firewall Installation and support – we install and manage your Firewalls to help you reduce the time, cost and resources required to manage the many threats and keep your business safe.  We only use the latest Draytek hardware.

Application installation and support – We will install and maintain applications to ensure they are up-to-date and relevant for your company.

If you have concerns about your current security software or IT Support and would like to discuss options, please contact us, or call us on 01892 577577.  We also have more free information regarding Email Security here.