What does the ISDN phase-out mean for your business if you are not a BT customer?
BT Openreach recently released the 'Stop Sell' list for areas around the UK. This is a term used by Openreach to signify stopping the sale of certain Openreach products.
With the ISDN phase-out slowly taking place and to be completed in 2025, what does this mean to you?  We have a free video guide here called BT Switch Off Explained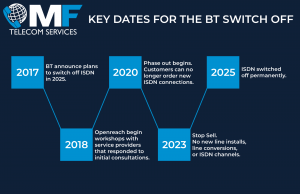 It means that from now on if your area is on this list, no provider can sell or install any new ISDN/PSTN lines in that area. If you need another line for your business, then your provider will be unable to supply one.
Unlike a withdrawal, under stop sell, customers already using a product will be able to continue to do so until it is withdrawn. It means, however, that no new version of this product can be supplied.  Plus you won't be able to do working line takeovers.  Or start of stopped lines, migrations, CP transfers, the addition of broadband to copper voice lines, bandwidth modification, or addition of lines and channels to existing installations.
Find out more: https://www.openreach.co.uk/cpportal/products/product-withdrawal/stop-sells-updates
So, what can you do about the ISDN Phase-out?
The advice given to any business still using ISDN or PSTN is to start looking at other options as soon as possible. These include VoIP and other hosted products.
Speak to your provider and they should be able to give you options. If not, speak to us as we are more than happy to advise.
What if my Broadband is awful?
We get this question a lot. There are several options to consider when it comes to broadband.  Products such as a separate FTTP broadband circuit, Wi-Fi Environment (SIM), operating a hosted product on company mobiles or installing a Leased Line. All of these might sound confusing!  So it is worth talking to your provider (or again calling us at MFTS) and looking at all the available options.  We can help you with any questions you have regarding business telecoms and IT support.
To find out if your area is affected or for information, do not hesitate to call MFTS on 01892 577577.  Or contact us.