Here at MF Telecom Services, we are proud to announce the launch of our brand new website.  This will enable us to continue to provide quality business telecoms solutions all over the UK!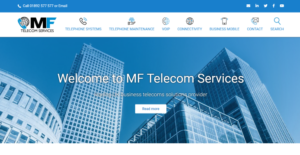 Within the new website is a free PDF library.  This provides all companies with a large resource of free information and guides to help you.

MF Telecom Services is a responsive company that listens to its clients and understands every business is unique and has different needs. To this end, we always strive to ensure our clients receive bespoke solutions that are right for their business.  Our new website covers the full range of solutions your business may need.  
We are passionate about what we do and our team of experts are always ready to ensure that you receive the best service. We don't sell on brand or price  – we make sure that it is right for you and your business.

MFTS specialise in services such as
Telephone Systems
Telephone System Maintenance
Voice Communications
Business Mobiles
Superfast Business Broadband
Hosting

We also offer Managed IT Services, Business Broadband, line rental, call recording options, contact centre solutions and much more.  So do not hesitate to contact us to discuss your business requirements.

From all of us at MFTS, we would like to thank our clients, both existing and future, for helping us grow and ensure we are able to enhance our services to better your business.