What would you do if your telephone system stopped working?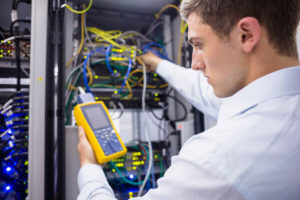 A reliable telephone system is the backbone of many businesses. Prolonged failure can be catastrophic. If your telephone system goes offline and you can't contact your customers, they won't be able to contact you. What does this mean? It means potential missed sales and loss of money. Do you have a business continuity solution or back-up plan?
Communicating the right message
Building a successful brand takes time, but poor customer service can ruin not only your reputation, but that of your brand too. Potential new clients may judge your organisation based on the technology you use. An out-of-date phone system, one that's frequently down or isn't compatible with modern systems, won't give the best impression. If customers can't reach you, they may well take their business elsewhere.
Why have a maintenance contract?
Predicting the unpredictable
Avoiding a potential costly one-off call out fee
Peace of mind
Factoring in the small cost of a maintenance contract is much easier than having to foot unexpected bills
When a telephone system fault occurs, panic is likely to ensue. You'll call the first company you come across that say they can help. This in itself carries risk, especially if you've never dealt with this company before and have no idea whether they are reliable.
How long can you be without your phone system, waiting for a fault to be fixed?
It's a costly and potentially damaging exercise, one that could easily be avoided if you have a maintenance contract in place. Knowing a specialist engineer will come out to fix the fault within 24 hours is invaluable.
Don't ignore the problem
All phone systems require regular maintenance to keep them running smoothly, even the most modern and robust models. Scheduling regular check-ups ensures you keep things running at all times, whilst identifying potential problems before they occur.
MF Telecom Services offer cost-effective phone system maintenance packages for UK businesses.
We support many legacy, or manufacturer discontinued models, avoiding the need to replace a whole telephone system before you need to; and our annual PBX or VoIP system health check with help to keep your telecommunication solution in optimal condition. Telephone system maintenance support is available for manufacturers such as NEC, Siemens, Unify, Mitel, Avaya, Nortel, Polycom, Meridian, Aastra, Alcatel/Lucent, and Ericsson.
Benefits of a business phone system maintenance package with MF Telecom Services
Keep your business operational and avoid downtime
Choose from our bronze, silver or gold level of care
Nationwide coverage
365 days support (where available)
Qualified engineers with regular, up-to-date training
Accredited partners of NEC and Siemens/Unify
Software Support
Programming
System installation
Handset supply
Dedicated Account Manager
Support for legacy and manufacturer discontinued equipment
More than 17 years of telecoms industry experience
Annual PBX or VoIP system health check / service as part of package
Regular maintenance and attention can help to extend the life of your business telephone system, which in turn can save you money and keep your business working for you. Don't leave it to chance. A communications system failure does not have to come at a heavy cost if you have a maintenance contract, as a client of ours in London discovered: Total failure of System
"I cannot praise MF enough for the level of support provided. Our telephone switch failed at 15:00 on the 7th of August, being a Friday I was worried that we would have to go through the weekend (with a full hotel) without any internal or external communication. MF had the switch up and running by 19:00! I have worked with a few support companies but have never experienced this level of customer care/ support. Well done!"
MF Telecom Services can help with
One-off call outs
Emergency faults: If you have a fault on your business telephone system and you don't have a maintenance package, call us on 01892 577 577. MF Telecom Services offer technical support and emergency fault fixing and diagnosis.
Moving office: If you are moving offices and want to take your old telephone system with you, we can help. Our qualified engineers will come to your office, remove your current system; and within a certain geographical range, re-install the system at your new premises.
Bespoke business telephone system maintenance and service contracts.
Contact us
To discuss your telephone system maintenance and support options or request a quote, please send an email or call 01892 577 577.