Price increases for broadband users are a necessity to help pay for upgrades to the fibre networks, says Openreach.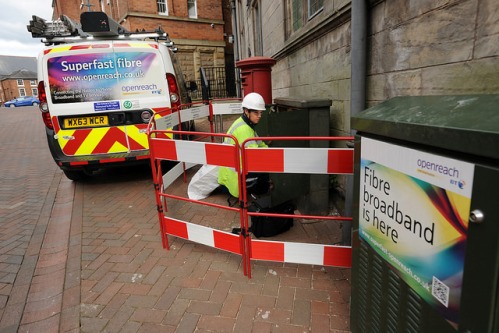 Following an industry consultation, BT says its subsidiary, Openreach, needs to invest up to £6bn on new ultrafast fibre-optic lines to serve the 10 million homes across the broadband network. This overhaul would involve a huge shake-up of the UK's current digital infrastructure and would mean roads being dug-up to install the fibre wires.
In order to finance this investment, some of the cost will go to its customers.
Openreach would like to build a Fibre-to-the-Premises (FTTP) broadband network that would "safeguard the UK's position as a leading digital economy".
At the moment, the internet is typically delivered via boxes on street corners, part of this being on a slower, copper line.
Ofcom has already said it wants to see a cap on the wholesale price of existing superfast broadband services.
Earlier this year, the telecoms regulator proposed price caps that would slash the wholesale cost of superfast broadband, a move that angered Openreach.
Arguing it had not yet been able to make a fair return on its investment in new fibre technology, Openreach turned to the Government, to ask them if they could make Ofcom reconsider.
The Government agreed. They do not want the UK trailing further behind rival economies in terms of investment in new infrastructure. All major European countries already have more fibre-optic lines.
An Ofcom spokesperson said: "We've proposed careful measures to support investment in new fibre networks, while also ensuring that people are protected from high prices. We're considering a range of views and evidence, and expect to reach a decision in the new year."
Openreach confirmed it had been in talks with other rival companies, such as Sky, Talk Talk and Vodafone to look at co-investing in its infrastructure in return for preferential terms once it's finished.
Openreach chief executive Clive Selley, said: "We believe that under the right conditions, we could build FTTP connections to ten million homes and businesses by the mid-2020s. We want to do it, we think it's the right thing to do for the UK, but it's clear that we can't do it alone, so I'm encouraged to hear that our wholesale customers support our vision."
Openreach say that in order to achieve this "we would need a regulatory environment that encourages investment, and we need to agree how the costs of such a huge engineering project can be recovered fairly from all those that stand to benefit".
MF Telecom Services can help you with all your business connectivity needs.
Reliable business broadband comes in a number of different options, depending on your needs. Whether it's SoGEA, FTTP or Leased Lines you're looking for, or even if you're not sure, please talk to us and we can help you make this important decision.
Call 01892 577 577 now.