The engineers at MF Telecoms Services are responsible for business telephone system installation, phone lines, business broadband and IT for businesses in the South East.
Find out, from their point of view, what goes on at the frontline of the business, with these case studies.
SPA Aluminium – Tunbridge Wells (SL2100).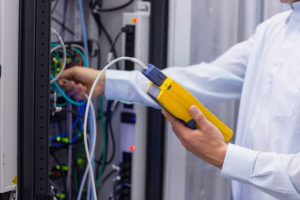 During the business telephone system installation of an NEC SL2100 into a Warehouse/Office environment, we had to work with old digital cabling. Digital cabling works using 1 pair of wires rather than the four pairs that can be found in data cabling (seen in most new offices/renovations). The site also had multiple distribution points (DP's) for the building, meaning there was no centralised point for the cables to go back to. This causes issue when tracing back the cables from a desk port.  Often, they are not easily traced using standard equipment. It can become very troublesome when trying to find faults in cables or possible breaks.

This type of cabling can also cause issues and is a disadvantage when installing a new system like the SL2100. The cabling can limit what devices can be used on the system.  For example you cannot use IP phones on this type of cabling, which in turn also limits the features you can use. It is also harder to adapt/grow your business.  As phones can only be used on the ports that are made live during the install, unlike with data ports, where all you need to do is move the phone with the user. Despite these obstacles, however, the install went well and without any issues.


KTS Legal – Enfield (Horizon).

The customer required new cables run around the office to each phone. Due to their system being hosted, CAT6 was needed rather than analogue. This meant getting around different obstacles, some fixed and some moveable.

The first hurdle we faced was getting cables over a glass divide. There was no room for the cables to fit past it, so the only option was to go over. We were able to hide the cables in trunking going over the divide and above a cupboard. We also encountered a metal girder when trying to drill through a wall to get the cables through to the next room. This ate into our time, but we came to the decision to go through the wall at the other end of the room.

From there it was plain sailing. More trunking was used to distribute the cables to all the desks. All phones were tested and working correctly meaning there was no damage to the cabling after it had been pulled through walls and twisted round trunking corners.


Thackeray's Restaurant – Tunbridge Wells (SL2100).

This customer was struggling to deal with the many faults of the highly dated Siemens HiPath running on ISDN.  From faults on system cards, to ISDN lines dropping.

They were originally quoted for a hosted system.  However, due to the building being listed, no CAT5 cables were able to be run. However, we were able to use the existing telephone ports with the NEC SL2100, as these were analogue.

One of the easiest parts of this install was being able to work in the restaurant during out of hours. We walked in, told the customer we were ready to go and they let us get on with it. SIP trunk call manager (a cloud-based number management portal) was a big help for this as they were able to divert calls to another site whilst we were decommissioning the old system and installing the new one. Phones were plugged straight into where they were meant to go as the ports were already there.  We only had to move some wires around in the distribution point.

The system set up was quick and we had everything done in four hours.  This gave the customer all the functionalities they had on their old system, including switching to night mode and diverting calls at the touch of a button.
Are you a business that requires assistance with your telephone system?
Whether it's an upgrade, maintenance on your existing system or a new installation, contact us.  MF Telecom Services is a leading UK business telecoms solutions provider.  We specialise in Business telephone system installation, Telephone System Maintenance, Voice Communications, Business Mobiles, Connectivity and Hosting. 

Contact us, or call 01892 577 577 to find out how we can help you.  We have a range of free video guides for NEC and Horizon on our YouTube page.